Something for people in the "I have nothing to hide so I don't care about online privacy policies and protection" camp to consider:
In the summer of 2009, Neda Agha-Soltan became the face of the Iranian Green Revolution after her tragic death by gunshot was caught on cell phone camera and uploaded online for the whole world to see. The international media rushed to put a face to the victim–but the face they used was that of another Iranian woman by the name of Neda Soltani, who was still very much alive.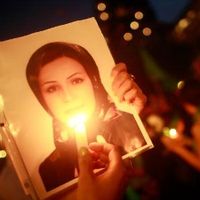 The living woman's image was lifted by the press from a social networking site and not fact checked. When Neda Soltani tried to correct the error, protesters threatened her. When she submitted a photo to a news organization in an effort to verify her identity and set the record straight, the news agency used the image as an "exclusive" photo of the dead woman.
The full On The Media interview is worth a listen. Even if you "have nothing to hide," it still makes sense to check and amp up your Facebook and social media privacy settings on a regular basis.